Weather app offers the classic way to check the weather conditions of multiple locations on Android and on classic Java based devices. The beautifully rendered vector images delivers the best possible user experience on any device independent of screen resolution or pixel density.
The compact 2x1 size widget on Android platform designed to fit into a wide variety of wallpapers and color themes.
Five different locations can be checked simultaneously to stay up to date with their weather conditions and the local times. Autorefresh function can be used to keep the data up to date at minimal cost to battery life. Data may be refreshed based on the data age indicator located in the lower left corner.
features
Display up to five cities at a time
Vector icons makes it beautiful on every screen sizes.
Current location determined using cell ID, GPS or IP address
Compact widget for any of the five cities
Global city search function
Metric or US units
Add city based on name or coordinates
Correct time on each locations even if the phone clock set incorrectly
Data traffic kept to minimum
Background refreshing with minimal battery usage
Data age indicator
The app offers three different views: Overview for all cities, Forecast and Current Condition screen for each cities.
Overview
You can check the current weather conditions in your locations on the same screen with this view. Basically this is a list with the selected cities and the current conditions of those locations.
Forecast
This is a four days forecast for one location at a time. You can change the location with the Left/Right navigation buttons. For each location you can check the high and low temperature and precipitation levels forecasts for the next four days.
Current conditions
You can see the current detailed weather conditions for each location. Change between locations with the Left/Right navigation buttons. The following data is available on this screen (from top to down):
Temperature
RealFeel™ temperature
Wind direction and speed
Pressure value and tendency
UV index
Relative humidity
Precipitation levels
Sunrise and sunset times
The number of items may vary on different screens, try to use the fullscreen mode ('0' zero key) to get the most lines visible.
You can use this midlet in conjunction with the Sunclock midlet. If you already use the Sunclock, the Weather will import your city settings from it. Otherwise you will get the default city set. You can modify the cities with the Cities menu item or you can search locations on the internet using the New City menu. For better city search results sometimes it's needed to add the country code after the city name. For example if you want to locate Halle, DE you should use the query string "Halle DE" because there are a lot of American cities with similar name so the search for "Halle" wouldn't work. It is possible to change the units between metric and American system. There is an update function where you can check any software updates using the Update menu item. The Help and About functions will display the usual information screens, getting help, checking version and so on.
If you find layout problems on a Java device, you may check the other available variants using the 'Variant' function. This function doesn't change the layout immediately; it just sets your required variant if you will make an 'Update' in the future. If you changed the preferred variant, the system will allow the update even if there isn't a newer version available.
You can find the description of the DST rules on the tech page of the Sunclock midlet website.
hotkeys (Java only)
| | |
| --- | --- |
| key | function |
| # | exit |
| * | toggle fullscreen |
| 1 | new city |
| 2 | fetch |
| 3 | update |
| 4 | cities |
| 5 | autorefresh |
| 6 | change units |
| 7 | variant selection |
| 8 | toggle builtin/custom fonts |
| 9 | about |
Warning! Weather midlet requires a GPRS, EDGE, 3G, Wifi or similar data connection that provides Internet access.
Download the variant for your preferred app store:
You have two main options to installing this midlet to your mobile phone.
The easiest method is the OTA, just start your internal phone browser and navigate to the http://weather.midlets.eu/dwn website, select a suitable variant (if unsure, select the first one with the lowest number) and download and install the software like any other java application.
The most confortable way is to download the proper variant to your computer and send the downloaded XXX.jar file to your device using bluetooth or cable connection.
For more information see this tutorial.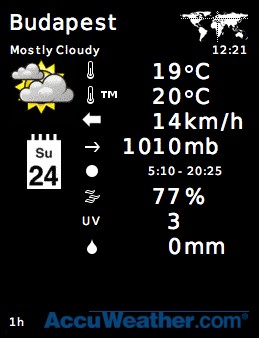 Leave a short feedback

22/Jul

: [Maui Browser] BURNA


21/Jul

: [Nokia5233] Goalpara


21/Jul

: [Nokia5233] Guwahati


21/Jul

: [SpreadTrum6530] Good


20/Jul

: [SAMSUNG GT-C3780] tarnow


19/Jul

: [SpreadTrum6530] Thank


17/Jul

: [Nokia6280] RAJAN


15/Jul

: [Maui Browser] NIGERIA


15/Jul

: [Maui Browser] I


15/Jul

: [LG-T375] Niamey


15/Jul

: [Nokia311] Tlemcen


13/Jul

: [Nokia216] Please Make this App Modren


13/Jul

: [NokiaC1-01] A


13/Jul

: [Jbed-FastBCC] Bil


13/Jul

: [Jbed-FastBCC] Al


12/Jul

: [SAMSUNG-SM-B313E] simran rajput


11/Jul

: [Jbed-FastBCC] Comilla


10/Jul

: [SpreadTrum6530] Uganda


10/Jul

: [Nokia201] Thank


9/Jul

: [Nokia6280] A more improved and advanced JAVA Weather Forcasting Application is of urgent requirement for TECNO T528.This midlet doesn't meet target.


8/Jul

: [SpreadTrum6530]


7/Jul

: [Maui Browser] ABRAFITH


7/Jul

: [SM-G532G] 145625784893


7/Jul

: [NokiaX2-01] 8557633460


7/Jul

: [NokiaX2-01] Karan.